President of the Sudan Medical specialization Board (S.M.S.B) visited NSA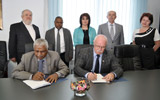 President of the Sudan Medical specialization Board (S.M.S.B) Dr. Eltayeb Abd Elrahman Ali visited National Sports Academy "Vasil Levski" during his stay in Bulgaria. He met the Rector of the Academy prof. Pencho Geshev and got acquainted with the activities of the institution.
The meeting specified areas of mutual interest. Our guests from Sudan presented their ideas to develop new programs and to run programs and training of specialists for the purpose of sport. The Academy is required to prepare expert advice in the drafting of programs and to exchange teachers in areas such as rehabilitation, public health, rational nutrition and healthy lifestyle and others.
Since one of the most advanced sports in Sudan is football, there is a need for specialists who provide prevention of sports injuries, prepare suitable diets and recover athletes from occurring injuries.
S.M.S.B. is the sole professional training body in the Republic of the Sudan mandated to manage and deliver medical and health specialty programmes in the country.
The driving foundation of SMSB is its specialty councils, which are responsible for the implementation of all activities concerning training of medical doctors including the development and review of curricula.
All