Specialists from one of the most famous English football clubs "Chelsea" visited the National Sports Academy "Vassil Levski".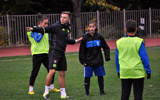 Coaches from FC "Chelsea" made a presentation for our football specialists and open workout with the NSA football teams - women and girls.
The "Football Development" manager of the Chelsea Foundation Keith Harms presented some highlights from workouts that are conducted with children and adolescents of all ages. He acquainted the audience with the basic requirements that team managers observed in the recruitment of athletes in different ages.
After the seminar and despite the bad weather Keith Harms, who is also head coach of the girls under 16 in Chelsea and Joe Butler, who trains with girls under 12 years held an open one-hour workout with the NSA football teams - women and girls. Both coaches demonstrated their experience and techniques that apply to their work at the club. They drew attention to the skills of the contestants with valuable advice showed how to be further developed.
Experts of the English team are invited in Bulgaria from Cargill Bulgaria to take part in a special week dedicated to education and sports for children. During their visit they met with pupils from several schools in Sofia.
"The activities of FC" Chelsea "motivate children to engage in sports, even at the beginning this is not football. It is important they to start with their activity in the early childhood and to develop their motor skills. With the development of these skills they decide later to which sport to pursue."said Keith Harms to the media.
More pictures from the event you can see on our facebook page:
https://www.facebook.com/nsabg/photos/?tab=album&album_id=1214120295277031
All